Chianti Italy Tourist Information about sights, hotels and vacation accommodations, food and wine for your visit to Chianti, Italy
Chianti, Italy, is the Classico wine region of the province of Tuscany, Italy, located between the "art cities" of Florence to the north and Sienna to the south. Chianti provides an ideal place to stay for visits to these cities and to Lucca and Pisa, as well as for excursions to view the towns, villages, castles and gardens of Tuscany.
On-line since 2001.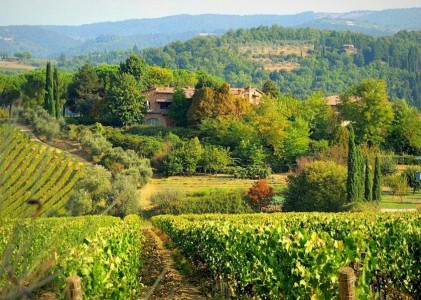 Beautiful accommodation is available in the towns and countryside of Chianti. You can expect to rent a comfortable village or rural self-catering apartment accommodation with a private swimming pool for less than the price of a hotel room in a city. In addition, there are rooms with and without breakfast available at wineries and in towns and villages throughout Chianti, Italy.
"Chianti" is the name of the wine region but the wine from Chianti is known as Chianti Classico, to distinguish it from the other Chianti wines that come from areas of Tuscany outside Chianti the region. If you like wine, then one of the great pleasures of a visit to Chianti is to taste wines at the wineries where they are produced as well as to take advantage of the selections available in supermarkets to accompany your meals with an interesting (and inexpensive) bottle of Chianti Classico.
Dining out in Chianti is inexpensive compared with most other tourist destinations in Europe and if you stay in the country or rent an apartment in town, your accommodation will most likely be self-catering. This doesn't mean you have to cook a dinner from the ground up every night. Supermarkets, other speciality food outlets and weekly open air markets offer a very good range of freshly cooked food as well as a large range of cold cuts and cheeses that you can take home for dinner on your own terrace.
The Chianti countryside is famous for its gentle hills and characteristic combination of vineyards, olive groves and forests, dotted with red-tiles farmhouses, mediaeval churches and towers, abbeys, castles and magnificent villas. In addition to great places to stay, Chianti offers a wonderful range of things to do including wine tours, beaches, hot air ballooning, hiking, horseback riding, cycling, shopping, photography and so on and on.
What to see and where to stay in Chianti, Italy