Why not learn some Italian or improve your Italian skills during your holiday in Tuscany?

Italian lessons in Italy
Lorella Federico offers Italian lessons at all levels for individuals and small groups visiting Chianti. Lorella, who is a professionally trained Italian language teacher, lives in Panzano in Chianti. You can attend lessons at her location or, if you are staying in the vicinity, she can provide your Italian lessons at your accommodation. She also provides longer Italian courses for individual pupils in their home countries via Skype.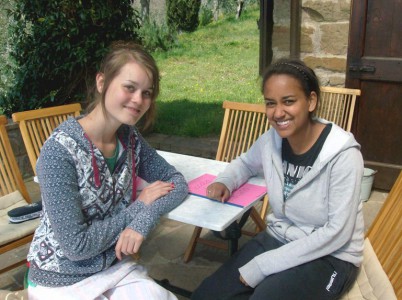 If you speak no Italian, make the best of your stay in Tuscany by taking a beginner level Italian lesson or two to learn correct pronunciation and useful phrases.
During a longer stay or if you already speak some Italian, a few intermediate Italian lessons from Lorella will increase your comprehension and allow you to take part in conversations.
If you're enthusiastic, when you get home you can continue your lessons over the internet using Skype.
Intensive Italian language courses are also available for those who need to come up to speed rapidly in Italian conversation and reading comprehension for professional or exam reasons.

Although Elena was born in Venice, she was brought up in Tuscany and is a historian and frequent contributor to online articles about life in Tuscany and Umbria. Her specialities are Tuscan and Umbrian local history and folklore.