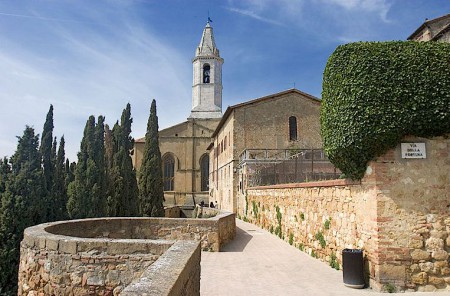 A visit to Pienza provides unalloyed pleasure to anyone who enjoys Renaissance architecture, italianate gardens, Tuscan food – particularly pecorino – and splendid vistas. Pienza shares the unspoiled Val d'Orcia with Montalcino, Montepulciano and San Quirico and owes its wonderfully harmonious town plan to Rossellino (probably working under strong influence of Leon Battista Alberti), thanks to the patronage of Aeneas Silvius Piccolomini, Pope Pius II, whose home town this is. The back of the Palazzo Piccolomini possesses loggias on all three floors that overlook an enclosed giardino all'italiana and enjoy spectacular views onto the Val d'Orcia. Pienza is rightly famous for its ewes' milk cheese, pecorino, of which there is a multitude of varieties.
Worth an extended visit. More about the humanistic town of Pienza.

Although Elena was born in Venice, she was brought up in Tuscany and is a historian and frequent contributor to online articles about life in Tuscany and Umbria. Her specialities are Tuscan and Umbrian local history and folklore.