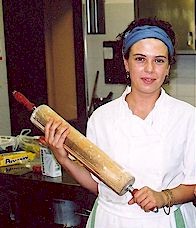 I'm Elisa Berghi and this is my cooking service where I and, when necessary, my assistant come to your accommodation and prepare a full lunch or evening meal from the ground up using fresh local produce and home-made ingredients. Whenever possible, I use organic produce. I offer a number of traditional and innovative menus but the final menu is always discussed with you and personalised to meet your wishes. I can also help you choose your wines.
I am happy to travel anywhere within the Chianti wine territory and if you are staying in Tuscany outside Chianti also feel free to enquire.
I prepare meals for a single occasion or even for an entire week.
Included: all food materials, table wine, bottled water, the cooking, food brought to your table in serving dishes. (If you wish to have a waiter who serves everyone individually, this is easily available but costs extra.)
Not included: waiter, special wines – I will be happy to make recommendations and locate interesting local wines.
More about my chef service and Tuscan cooking lessons.

Although Elena was born in Venice, she was brought up in Tuscany and is a historian and frequent contributor to online articles about life in Tuscany and Umbria. Her specialities are Tuscan and Umbrian local history and folklore.