"Degustazione" – wine tasting – is the word to watch for on the winery signposts along the various wine routes in Chianti and Tuscany. This means that you can taste the wine produced at that vineyard and if you like it you can buy a few bottles. You might also want to keep your eyes open for an "enoteca" – this is an establishment, usually in a town, where you can sample wines from a wide variety of local wine estates.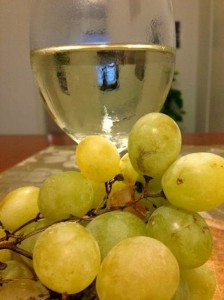 How to visit more than one winery, "taste" more than one wine, and still be able to get safely from one winery to the next? An excellent option is to hire a car with a driver-guide for a half or a whole day wine tour. Your guide should be knowledgeable in local oenology, be able to suggest suitable itineraries, including lunch stops, and be willing to make certain that the wineries that you will visit are open and receiving visitors at the time you plan to be there. My recommendations are given below.
Sunflower Tours - wine tasting tours

Giovanni Sirabella is a licensed, English-speaking tour guide / driver who is familiar with a great many of the most interesting vineyards and wine-producing estates in Chianti and other parts of Tuscany. He has several itineraries ready for you, and of course will design one according to your wishes. His vans hold up to 8 passengers and are air-conditioned to assure the best comfort during your tour. More about Sunflower Tuscany Tours.
Wine tasting tours in Chianti with Angela

Angela Saltafuori, English-speaking and holder of a sommelier certificate approved by the Province of Florence, drives groups of 2 to 8 visitors in a comfortable, air-conditioned minibus to visit wineries and taste wines. She has her own wine itineraries or will organise a customised wine tour based on your wishes. More about Angela´s Chianti Classico wine tour..
Scenic, photogaphic and wine excursions with Sergio

Sergio Ceccherini, fluent English-speaker and NCC-licensed driver, takes private groups in a comfortable, air-conditioned minibus to any area of Tuscany. Sergio offers some well-thought-out excursions of his own, including Lucca, Arezzo, Monteriggioni, Sienna and Pisa, plus photo opportunity tours, and wine tours in Chianti and Montalcino, or will conduct a customised excursion based on your wishes. More about Sergio´s visit Tuscany tours.